MARELEC Food Technologies, founded in 1983, designs and manufactures high-tech portioning, weighing, grading and control systems for the fishing and food industry to optimize the efficiency of manufacturing processes globally. The unique features of our systems is what contributed to our strong presence globally. The robustness, high speed, precision, and custom design, which have applied equally to the poultry and meat systems for many years is what keeps us growing.
The primary activity is the development of intelligent portioning machines, fitted to the needs of the customer. These intelligent portioning machines scan the pieces of meat, chicken or fish, before cutting them into slices of desired weight. In addition to these intelligent portioning machines, MARELEC also develops and constructs weighing and grading solutions.
MARELEC is in charge of every step of a production line, from development to testing, building, operating and maintaining the installations. Due to this in-house development and assembly, each machine can be customized to specific customer needs.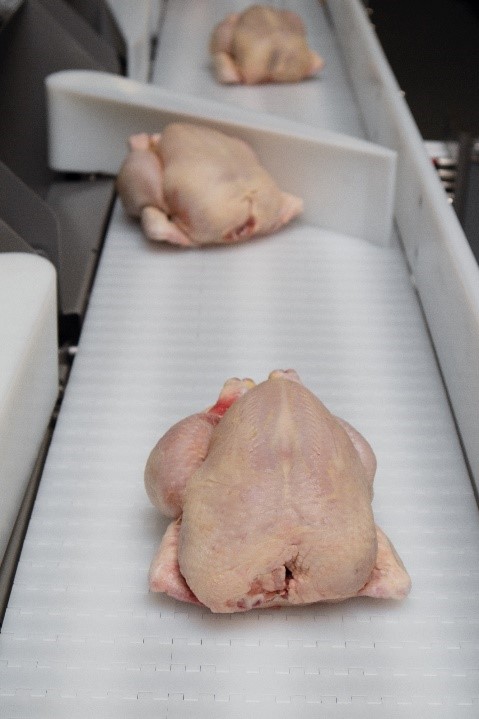 Before AGILEHAND
In the food processing sector, product appearance and quality are strongly connected with sales revenue, therefore cutting manufacturing time as much as possible is important.

The operator's knowledge and experience are now used to access quality, product, and species properties, which are manually registered for the production line. Operators are required to handle and pack each product gently inside its packaging after it has been batched into the necessary characteristics.
Customers must be given the proper presentation of each box of chicken fillets. Therefor all operators must work together to complete this manual task in order t o guarantee the product's quality and freshness which typically takes no longer than a day to complete this procedure.

The raw materials' quality, weight distribution, and yield vary since they come from various farmers and suppliers. The production manager must quickly modify the production process based on real-time feedback parameters of the raw material input to satisfy order quantities within the predetermined, constrained delivery timeline.
After AGILEHAND:
To access internal product quality achieved through AGILEHAND solutions, the MARELEC Intelligent Portioning and Grading algorithms must first be expanded. By doing this, human error is minimized and the product quality can be evaluated impartially.
Additionally, by reducing the number of unsafe and unhealthy tasks operators perform as a result of the arduous labour and harsh working conditions in cold production environments, MARELEC will be able to reduce the number of operator injuries and sick days by implementing AGILEHAND solutions.
For soft and deformable products, a combined grading and packing system will:
Lessen the quantity of fragile goods harmed when being handled by workpieces.
Decrease the device's footprint inside the production area. This helps to shorten the processing chain, which directly affects the quality of the final product.
A real-time Agile Order Management service will be introduced to Marelec's Manufacturing system using a Digital-Twin representation of the raw materials and historical average production times. The historical large data sets of raw material references and product characteristics would serve as the foundation for the Digital-Twin and AGILEHAND solutions. Real-time services can detect changes on raw material input streams in production. They can simulate production and order outcomes to agile steer the planning during the day. Additionally, it will be able to anticipate the planning for the following day's production.
With the expertise gained from this research, MARELEC will be able to add cutting-edge modular machines to its product line. These tools will assess the product's interior quality before cutting, grading, and packing the product (meat or poultry) for value-added processing.
Expected Improvements:
Lower product grading costs through automation;
Fewer operator injuries as a result of operators engaging in fewer hazardous duties;
Less waste due to a more accurate quality estimate and shelf-life date;
Lessen the number of delicate products damaged during sorting and packaging;
Reduce the shortage of materials;
Boost the efficiency/pace of product sorting and packaging;
Shorten the production program make span by disabling sensors that are ineffective or of little value in the grading process, which reduces energy consumption and installation costs.
Learn more about Marelec : https://www.marelec.com/home/